(scroll down for English)
Film (7min, 2014-2015) / installation. Langue originale : kurde.
FILM – Oscillant entre naissance et déclin du jour, la nuit plonge les bâtiments en ruine de Ani (ancienne capitale arménienne) et les bâtiments en construction de Mardin (à la frontière syrienne) dans les lueurs bleutées de leurs propres destins, entre passé et futur, dans un présent incertain. Des sous-titres accompagnent les images où un dialogue se noue entre titans et dieux, deux entités mythologiques opposées symbolisant le mécanique et l'organique, l'ordre et le désir, et révèlent leur irréconciliabilité tragique.
INSTALLATION – L'installation So long after sunset and so far from dawn se compose d'un écran et de deux photographies présentés côte à côte, tous de hauteur égale et constituant une fresque. Dans le film, une voix kurde sous-titrée, traitée musicalement et accompagnée d'autres éléments musicaux, déroule le dialogue imaginaire entre un Titan et un Dieu.
CREDITS traduction kurde de Kawa Nemir / avec les voix de Mehmet Korkut et Mazlum Adıgüzel.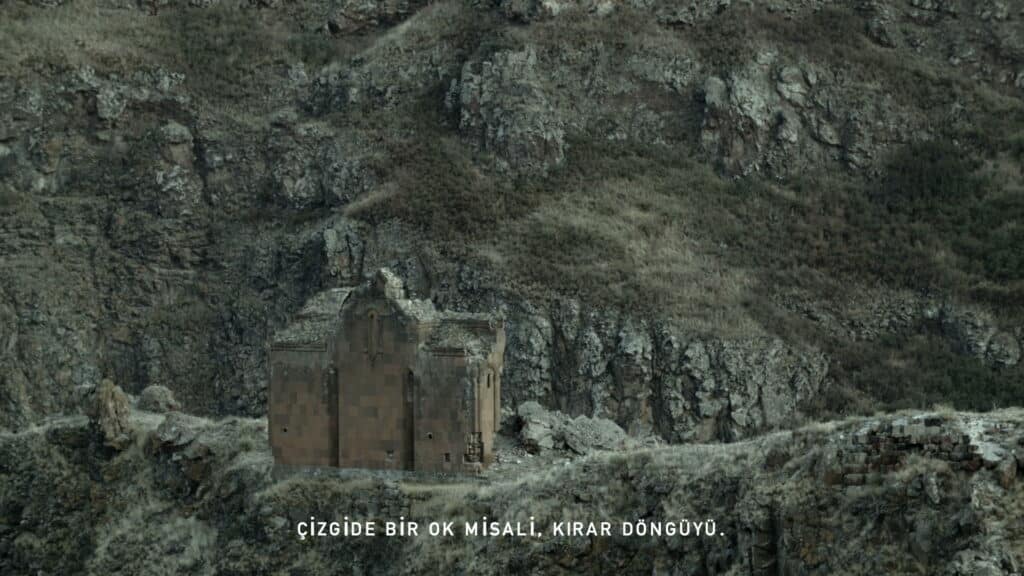 ENGLISH
Film (7min, 2014-2015) / installation. Original language : Kurdish. Version with English subtitles available.
FILM – Oscillating between the birth and decline of light, night plunges the ruins of Ani (ancient Armenian capital) and some under construction buildings of Mardin (at the Syrian border) into the blueish glows of their own destinies, between past and future, in a uncertain present. Subtitles accompany the film where a dialog builds up between titans and gods, two mythological opposite entities symbolising mechanical and organic, order and desire, and reveal their tragic irreconciability.
INSTALLATION – The installation So long after sunset and so far from dawn is made of a screen and two photographs displayed side by side, all of the same height and constituting a fresco. In the film, a Kurdish and subtitled voice, treated as music and accompanied by other musical elements, unfolds an imaginary dialog between a Titan and a God.
CREDITS Kurdish translation by Kawa Nemir / with Mehmet Korkut and Mazlum Adıgüzel.