(scroll down for English)
Film (18min) / installation. Langue originale : kurde.
SYNOPSIS – Deux jeunes hommes sont installés dans le désert. Aucune âme à l'horizon. Ils attendent le retour d'un troisième homme parti en éclaireur. Les deux équipes restent en contact grâce à des radios. L'éclaireur explique le chemin qu'il accomplit, et l'étendue désertique toujours plus vaste devant lui. Il raconte l'espoir qu'il place dans chaque pas qu'il fait. Les deux jeunes hommes restés en arrière écoutent ; ils projettent leurs espoirs dans le futur et l'autre côté du désert. Mais la qualité du signal radio commence à faiblir. Des crépitements se font entendre sur la liaison. De plus en plus fortement. D'abord indéchiffrable, la voix finit par disparaître. Les deux jeunes hommes se retrouvent dès lors seuls et sans nouvelles. Doivent-ils se lancer en avant ? Rester où ils sont ? La réponse qu'ils imagineront est finalement un paradoxe : que croire est aussi essentiel qu'est la conscience que croire est vain.
CREDITS – avec Mehmet Korkut, Mazlum Adıgüzel & Baver Doğanay. Traduction kurde par Kawa Nemir.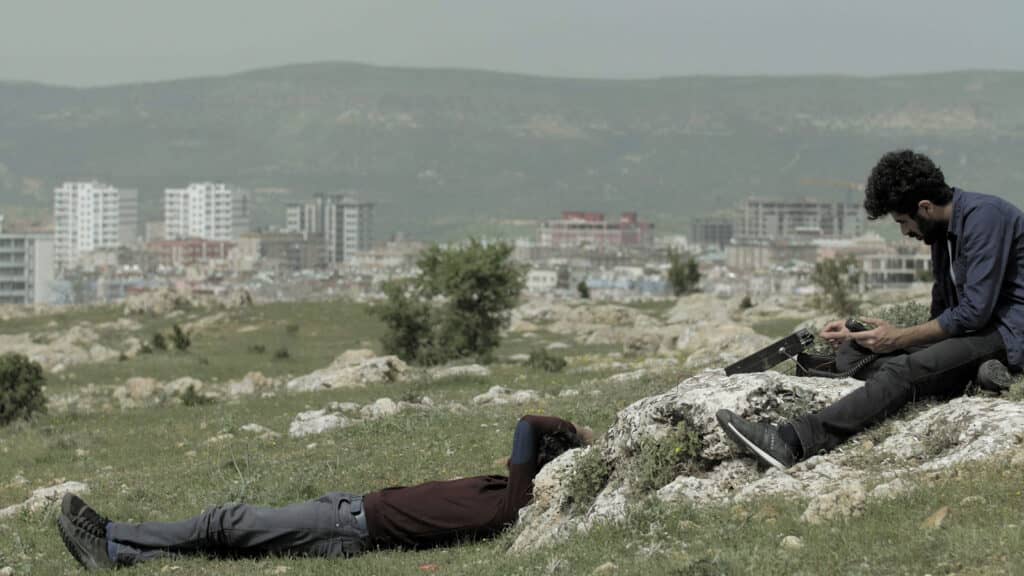 ENGLISH
English title : NOTHING BUT EARTH, DRIER AND DRIER
Film (18min) / installation. Original language : Kurdish. English subtitles available
SYNOPSIS – Two men are settled in an inhospitable land waiting for a scout to come back. He has gone in search of a new land where life would again be possible. The two teams keep in contact thanks to radio transmitters. The scout regularly gives news, telling his journey and the infinite desert that more and more surrounds him. All day long, the two men stayed behind are waiting for the scout to give news. Unfortunately, the quality of the signal in the radio transmitter is getting bad. Interferences appear until the voice completely disappears. The two men have lost contact with the scout and now face their own responsibility. Divergences appear.
CREDITS – with Mehmet Korkut, Mazlum Adıgüzel & Baver Doğanay. Kurdish translation by Kawa Nemir.
VISUELS