(scroll down for English)
ELDORADO – 2012 – film (18min) / installation.
CREDITS – Dessins & objets, Benjamin Graindorge. avec Paul Lengereau.
C'est au Japon, à la Villa Kujoyama, que Benjamin Graindorge et moi-même avons pour la première fois échangé autour de la nécessité de la pratique dans nos disciplines respectives, pratique comme vecteur de la création. Eldorado est né du désir de révéler ces pratiques en faisant entrer le geste qui crée dans l'œuvre créée. Nous avons choisi un territoire désertique comme point de fuite : le désert symbole du renouveau et de la mort, de l'éblouissement et de la perte de soi, de la solitude et du duel ; le désert, lointain assez vague pour que chacun puisse y projeter son propre désir. Benjamin Graindorge et moi-même avons imaginé, chacun dans sa discipline, des formes qui représentent ce point de fuite. Eldorado est un dialogue entre ces formes, qu'elles soient achevées ou en construction sous le regard du spectateur. Il y a une maquette aux allures topographiques composée de tiges de bois et d'épingles ; des dessins réalisés au feutre qui s'immiscent sur les images vidéo ; des bruitages réalisés artisanalement reconstituant le paysage sonore d'un désert ; des images vidéo, plans subjectifs d'une déambulation dans le désert matinal. L'ensemble de ces éléments rassemblés dans Eldorado unit l'idée, l'intuition de la forme à sa concrétisation.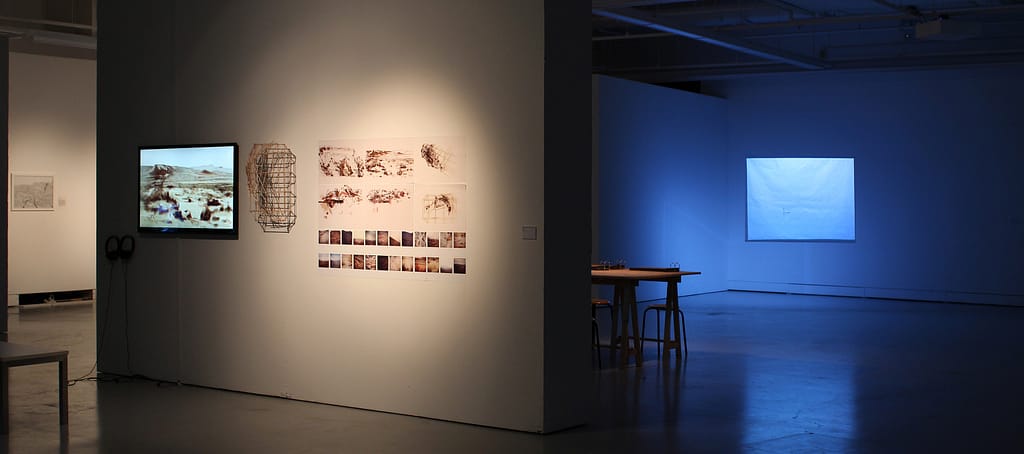 ENGLISH
When we first met at the Villa Kujoyama residency program in Kyoto, Japan, the designer Benjamin Graindorge and myself stated that a regular practice of our work was necessary for creation to happen, that we could then compare to repetition as training. Eldorado's first idea is to merge the gesture that produces with the artwork produced. We chose the desert as our playground, a vanishing point we have in common, symbol of renewal and death. The desert, that far land vague enough to let each of us interpret it in our own way. Benjamin and myself imagined shapes that would approach this vanishing point, in our own disciplines. Eldorado sets a dialogs between these shapes, either achieved or in construction. There is a sculpture with topographic shapes, made of balsa wood and pins ; drawings wiht felt pens that appear on the video ; foleys that handcraftly rebuild soundscape of the desert ; video footage, point of view shots in a desert at dawn. All these elements together merge the process of creation with the creation itself.